How Many Times Sachin Tendulkar Gets Clean Bowled
If you were a Sachin tendulkar fan than this information is only for you. When we like any cricker or celebrity then we want to know everything about the star. Here we are let you know how many time master blaster Sachin Tendulkar got clean bowled by bowler.

Tendulkar is an obsession. When he gets going, we rejoice. When he fails, we analyze. The Mumbai Maestro's stumps were once again rattled in the first innings of the second Test against England. There has been a sense of gloom surrounding Sachin ever since he was clean bowled three times in three innings against the Kiwis in a 2-match Test series earlier in the year.
Is age catching up with Tendulkar? Have his reflexes slowed down? We did a small 'clean bowled' test on the Master Blaster and got some interesting results. Since, Sachin's stumps have taken a hit in Test matches; we've analyzed the numbers only from the longer version of the game.
Number of times clean bowled: 52
Most times against: New Zealand 10
Least: Zimbabwe 1 time
Most times against: New Zealand 8
Least against: Pakistan 2 times
Least favourite home venue: Bangalore, has been clean bowled 5 times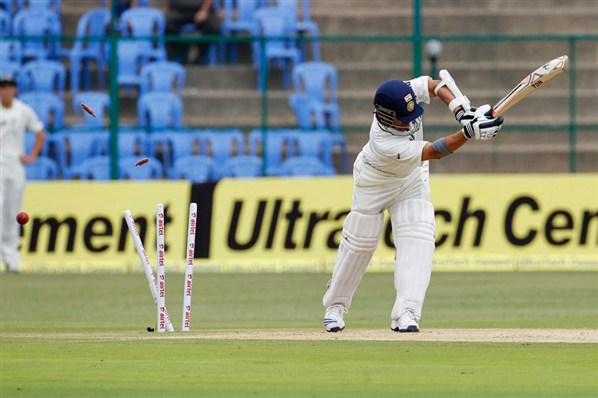 Highest score before being bowled out: 214 v Australia in 2010, 2nd Test, Oct 2010
Most times against: England 7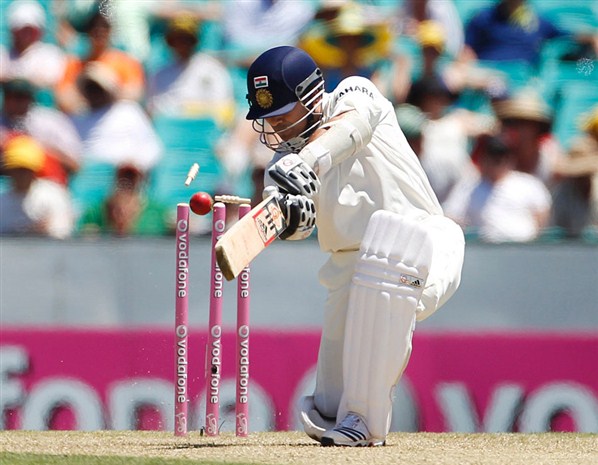 Least against: Zimbabwe 1
Least favourite overseas venue: Lord's and National Stadium, Karachi 3 times
Highest score before being bowled out: 146 v SA in Jan 2011, 3rd test
Number of fifties made before being bowled: 8
Number of times bowled in 90s: 2
Dismissed bowled: 8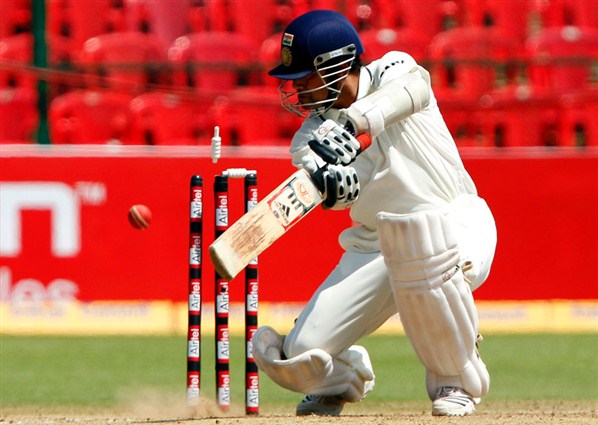 Highest score: 148 v Sri Lanka, Mumbai, 1997, 3rd test
Lowest score: 0 v Australia, Delhi, 1996, Only test
Sri Lanka, NZ, SA dismissed have clean bowled him twice
Won the test: 10 times
Lost the test: 19 times
Drew the test: 18 times
Second innings: 20 times
Third innings: 10 times
Fourth innings: 6 times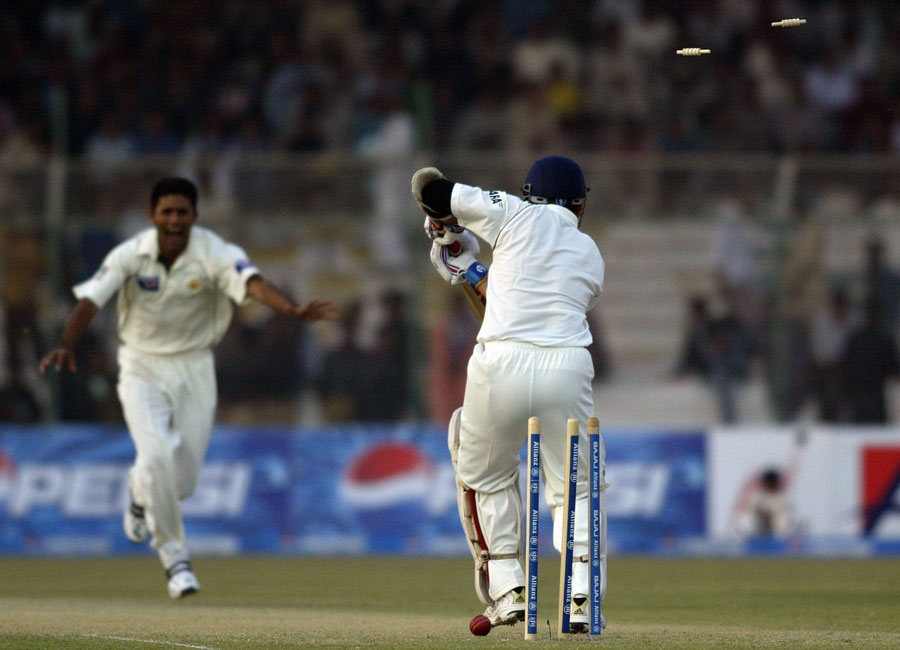 Pakistan
• Waqar Younis
• Abdul Qadir
• Shoaib Akhtar
• Abdul Razzaq
• Mohammad Asif
• Danish Kaneria
England
• Chris Lewis (2)
• Dominic Cork (2)
• Michael Vaughan
• James Anderson
• Matthew Hoggard
• Monty Panesar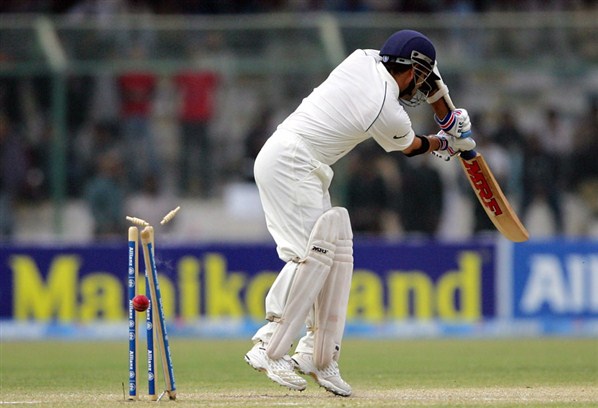 Australia
• Mike Whitney
• McGrath
• Adam Dale
• Stuart Clark (2)
• Peter Siddle
• James Pattinson
Sri Lanka
• Don Anurasiri
• Wickramasinghe
• Pushpakumara (2)
• Muralitharan
• Welegedara
• Kulasekara
Zimbabwe
• Heath Streak
West Indies
• Franklyn Rose
• Adam Sanford
• Pedro Collins-l
• Jermaine Lawson
New Zealand
• Chris Cairns (2)
• Shayne O' Connor
• Shane Bond
• Darly Tuffey (2)
• Chris Martin
• Trent Boult
• Doug Bracewell
• Tim Southee
South Africa
• Allan Donald (2)
• Andrew Hall
• Zander de Bruyn
• Shaun Pollock
• Paul Harris
• Morne Morkel
Bangladesh
• Mohammad Rafique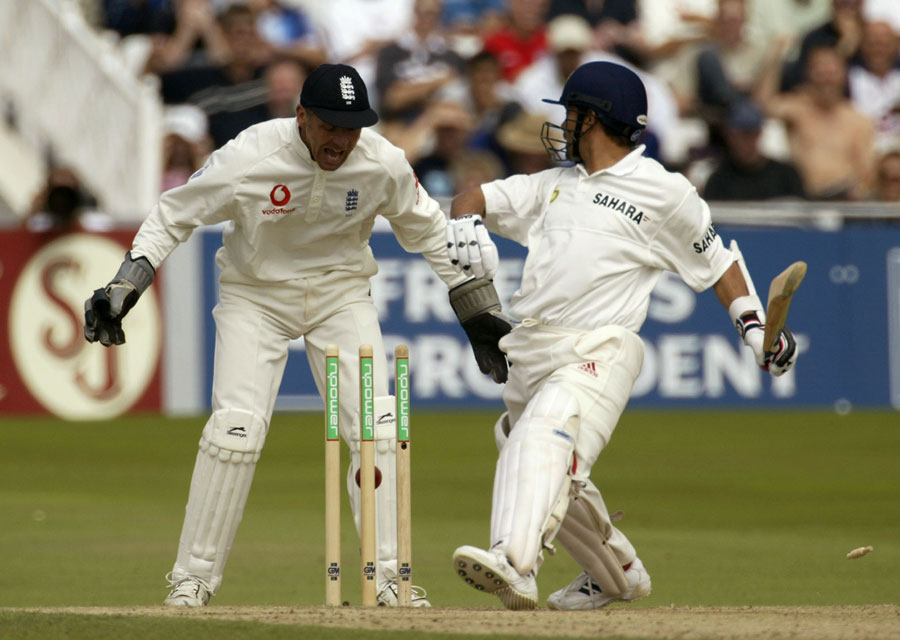 Sachin has been bowled out
• by spin: 7 times
• Pace: 45 times
• Right-arm bowlers: 37 times
• Left-arm bowlers: 15 times
• 29 yrs – 39 yrs: 32 times
• 19 yrs – 29 yrs: 24 times
• 16 yrs – 19 yrs: 4 times
By : By Vineet Sharma, India Syndicate | Original Source