7 Tips to Make Your Business Card Stand Out
Every form of contact with customers and clients is digitalized these days. But one essential paper item that is essential for a business is a business card. Though they are getting digitized too, the power a paper business card has is unbeatable.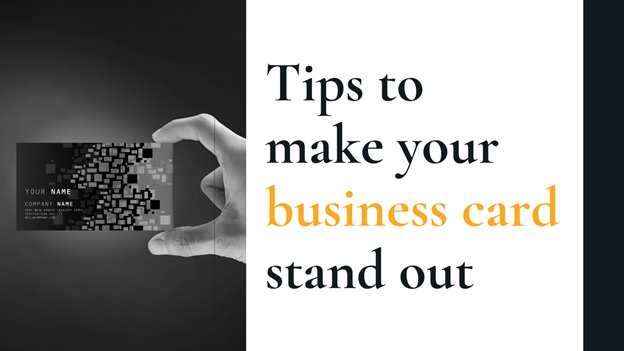 When you meet a new client or prospects, you want them to remember you and your brand when they need specific services. The trick here is to create a business card that is impressive enough to leave a mark on the recipient's mind. If your visiting card is lightweight, doesn't have details, or uses a low quality of the print, no one will remember it.
If you want it to stand out amongst the plethora of cards that a business gets, you need to ensure that it has something unique for that.
There are tons of business cards out there who have poor design and low paper quality. These cards are the ones who are found at the bottom of the trash or are forgotten. It is a setback for your business because a quality card can bring lots of new clients and customers for your business.
Wondering what you can do to make your card stand out? Here is a list of things for you to try out.
1.      Keep in mind the basic principle of designing
A business card is a printed material essential for your business. It means that you need to apply the basic design principles of paper printing. Here are some things that you need to keep in mind:
Keep the details in the card should be 5mm away from the trim area
For best image- work at 300dpi
You can design your card in grid layout as it helps maintain a hierarchy
Work with CMYK colors
The typography should have a minimum size for legibility
2.      Pay attention to the weight of the paper
The weight and quality of the paper are extremely important. If you think that you work out a deal that lets you get thousands of cards for a cheaper price, you are making a mistake. You may get a good deal on the price, but the quality and weight of the paper will be cheap.
These two factors are crucial for measuring the business card and how people perceive it- to be thrown in the trash or to keep it safe.
Thus, invest in some bulky paper which has high quality and doesn't smudge due to water or so on.
3.      Be simple
The best way to create a business card that stands out is to create a simple card. Simplicity doesn't mean you cannot get creative. It means that you know how to strike a balance between design, emptiness, and what information to put on it.
A business card doesn't tell your whole story, it nudges people to find out more about you and work with you. Thus, the first step is to figure out what information is critical enough to put on the card, once you do that, you can figure out how to creatively design the card that it looks aesthetically pleasing while being simple too.
The back of the card can be empty, but depending on your business, you can have a design on the back or so on.
4.      Use different materials
Another way to create an effective card is to use a material other than paper to design your business cards. Paper is the most cost-effective and easy material to work with. But if you have the budget, and you want to be creative with your card, use materials like wood, or metals, or so on.
They are rare, but they have an existence in the market. If you keep in mind their size and portability, you can work wonders with them.
5.      Use a cutting technique for your card
Another way to make your card stand out is by using the die-cut process to cut your card and having a void in it. For instance, you can cut the corners or some parts in the center giving it a unique design.
The technique of dying the card is a bit costly, but with more friendly machines coming into the market, they are getting affordable.
The front of your card can get overwhelming with too much information. That is why you can use the backspace to share your social media details. Share your social media handles as they are important for connecting and sharing them on the back makes use of the backspace and keeps the card clutter-free.
7.      Use special finishes
If you are okay with an expensive business card, think about adding special finishing to your cards like matte finish or spot-UV, foil blocking or metallic link. They do add to the cost, but they make your card more memorable, impressive, and powerful.
Business cards are important, and they will remain so for a long time. Investing in them is a good thing for your business, and with these tips, you can have a card that is outstanding.